SKIN CARE PRODUCTS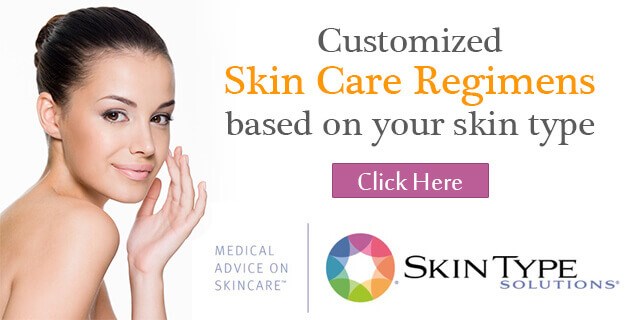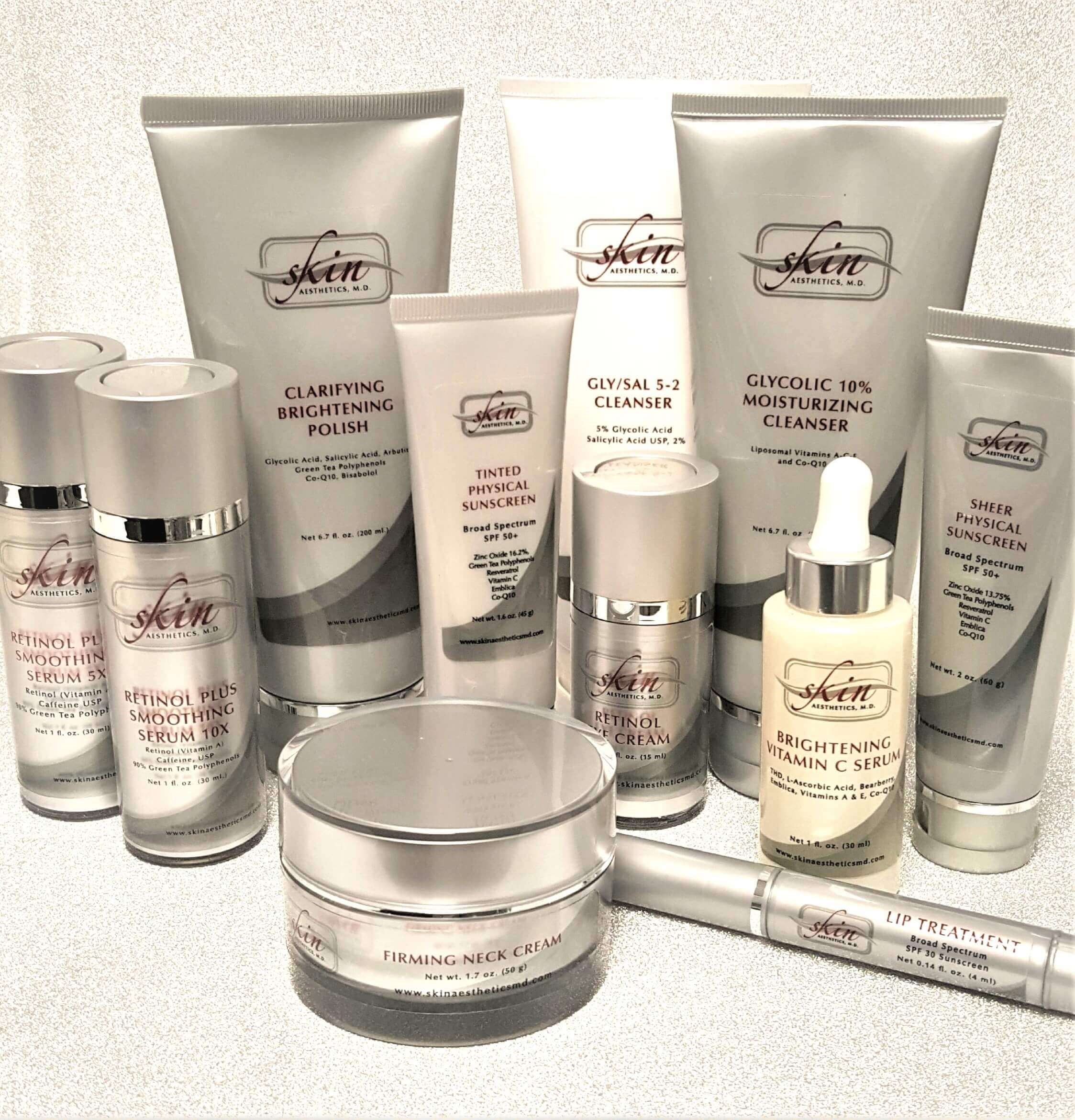 About Our Products
The staff at the Dermatology and Skin Cancer Institute has researched numerous skin care products and are proud to offer comprehensive and efficacious product lines for skin care and rejuvenation. Our custom skin care line, SkinAesthetics MD, offers pharmaceutical quality ingredients with prescription-strength formulations not available over-the-counter at drug stores or department stores. Peer reviewed studies have been performed on all of our products which are manufactured in an FDA-registered facility.
Skin Care Product Ingredients:
Antioxidants - They not only protect against free radical damage but they enhance the effects of sunscreen in preventing sun damage. Used in the day time they help protect against wrinkles, dulling skin and discoloration. Used at night they help with cellular repair. The antioxidants below are found in most of our anti-aging products and sunscreens.
Green Tea - It not only protects from free radical damage but it is also anti-inflammatory. It is said to be the fastest acting antioxidant.
Vitamin C - This antioxidant is a great alternative for those sensitive to Retinol or those who do not want to use hydroquinone to bleach their skin. Vitamin C brightens the skin, promotes collagen production and decreases pigmentation. Vitamin C can become oxidized so the packaging is very important.
Retinol - A derivative of Vitamin A, Retinol is the go-to for anti-aging. It is the cosmetic equivalent of Retin A which is prescribed for acne as well as anti-aging. Retinol expedites cell turn over resulting in a decrease of fine lines and wrinkles, smaller pore size, smoother & softer skin texture, more even skin tone and increased collagen production.
CoQ10 - Reduces UV damage, stimulates collagen production and reduces substances in damaged skin that wreak havoc on its support structure.
Resveratrol - A powerful antioxidant that has been shown to prevent UVA damage and abnormal cellular proliferation. Found in Red Wine, known for its anti- aging properties.
Caffeine - Anti-inflammatory antioxidant that constricts blood flow. Often found in eye creams to reduce puffiness and dark circles. Enhances the antioxidant properties of green tea. Helps diminish signs of redness.
Hyaluronic Acid- Assists in optimal skin hydration and seals moisture in, plumping fine lines and wrinkles while holding 1,000x its weight in water. Hyaluronic acid occurs naturally in the skin and supports healthy collagen and elastin structures while reducing the inflammatory response, regulating tissue granulation and encouraging healthy cellular regeneration.
UNIQUE ESSENTIALS
For All Skin Types, Hair Loss
Nutrafol Core for Men and Woman was formulated with medical-grade ingredients to help with poor hair health (growth, quality and thickness). This multi-targeting supplement also assists in reducing stress and fatigue, improving sleep and focus all while promoting an overall feeling of wellness. Bio-optimized botanical ingredients along with a mix of vitamins, minerals and amino acids, serve as the building blocks of healthy hair growth. Dr. Saxena has been on Nutrafol for years with visible results!
Lip Treatment SPF 30 - For All Skin Types
This all in one lip treatment protects, hydrates, plums and softens in a single application. This product has a temporary tingling sensation which draws natural color where applied and lips will appear more defined. Broad Spectrum SPF 30 protects from UVA/ UVB and free radical damage for overall lip health care.
Latisse- For All Skin Types
The only FDA- approved product to make eyelashes grow longer, thicker and darker. It really works!
<>
Arnica Forte- For All Skin Types, Post Treatment
A natural dietary supplement which supports the normal body functions of healing. The active chemicals in arnica may reduce swelling, decrease pain, and act as antibiotics.
CLEANSERS
Gly/Sal 5-2 Cleanser- For Oily, Acne Prone Skin
A gel-based cleanser formulated to gently cleanse oily, acne prone skin and dissolve pore-clogging debris.
Ultra-Gentle Cleanser- For All Skin Types
A soap-free, light, creamy cleanser ideal for all skin types, but specifically formulated for sensitive skin. Contains: liposomal- Vitamins A, C, E and Co-Q10.
Clarifying Brightening Polish- For All Skin Types
This mild cleanser uses micro-beads to gently exfoliate and clarify skin. Key ingredients such as Glycolic and Salicylic Acids, Arbutin, Bisabolol, Vitamin C, Green Tea Polyphenols and Co-Q10 work synergistically to make skin soft, smooth and bright while providing antioxidant protection. Great for all skin types, can be used 2-3x per week.
Shea Tera Argan Oil & Acacia Honey Facial Wash- For All Skin Types
100% Natural. Nourishing honey and a combination of pure ingredients provide a face wash that works for all skin types. Gently removes grime and dead skin without any stripping. Pure, raw African acacia honey is combined with skin softening Moroccan argan oil for an apitherapy treat that breaks down dead skin cells and ultra-hydrates skin at the same time.
Glycolic Elite 10% Moisturizing Cleanser- For All Skin Types
A rich, soap-free cleanser that uses 10% glycolic acid to gently exfoliate, cleanse and smooth the skin. Formulated with a rich blend of antioxidants which includes, liposomal- vitamins A, C and E, green tea extract and Co-Q10. Glycolic Elite 10% Moisturizing Cleanser assists in minimizing free radical-induced skin damage while aiding in the restoration of healthy looking skin.
Green Tea Foaming Cleanser- For Oily, Acne Prone Skin
A rich, soap-free cleanser soothes and hydrates the skin using a powerful blend of antioxidants. This green tea foaming cleanser will assist in minimizing free-radical induced skin damage and is designed to deep clean and replenish the skin, resulting with a healthy glow.
Element 47 Skin Fortifying Mist- For All Skin Types, Sensitive Skin
Skin Fortifying Mist removes dirt, makeup and sunscreen left behind after cleansing without stripping the skin of its natural oils. Not only does the mist further cleanse the skins surface but is designed to preserve and enhance the skin's function. This can be used after cleansing, throughout the day or before workouts to keep skin clean.
MOISTURIZERS
Ultra-Lite Moisture Dew- For Acne Prone, Sensitive Skin
An oil free, sheer moisturizer recommended for all skin types including oily, acne prone and sensitive skin types.
Zerafite Barrier Repair Moisturizer- For Dry, Sensitive Skin
Ideal for dry, sensitive skin, Zerafite Barrier Repair Moisturizer reduces skin irritation and reinforces the skin's barrier to help maintain moisture levels. Fortified with plant-­-based ceramides, fatty acids and cholesterol that mimic the components found naturally in the skin, this daily moisturizer leaves skin smooth, soft and comfortable and it protects against environmental aggressors.
Zerafite Soothing and Calming Moisturizer-

For Normal, Dry Skin
Zerafite Soothing and Calming Moisturizer reduce irritation and helps keep dry, sensitive skin calm and comfortable. Ceramides, fatty acids and cholesterol replenish the components found naturally in the skin, while argan oil and niacinamide quell the inflammation that can lead to redness, burning and stinging.
Triple Antioxidant Cream- For Oily, Aging Skin
A rich multi-tasking cream that contains green tea extract, 90% polyphenol isolates is the active ingredient within the super antioxidant which helps diminish the appearance of fine lines, wrinkles and pores while calming inflammation. Green tea-derived caffeine stimulates circulation as it boosts the entire formula's efficacy, perfect for oily and aging skin.
SUNSCREENS - For All Skin Types
Sheer Physical Sunscreen Cream SPF 50- For Sensitive, Acne Prone Skin
Pure physical sunscreen blocker that is rich in antioxidants such as Green Tea Polyphenols, Resveratrol, Co-Q10, emblica, and Vitamin C to neutralize free radicals. Micronized Zinc allows for a weightless and transparent finish. Ideal for all skin types, especially for anyone who is sensitive to chemical sunscreens or acne prone.
Elta MD (UV Clear SPF 46) - For Sensitive, Acne Prone Skin
Oil-free Elta MD UV Clear helps calm and protect sensitive skin types prone to breakouts, rosacea and discoloration. This light weight SPF hydrates the skin while protecting from the sun with transparent Zinc Oxide.
Tinted Physical Sunscreen SPF 50 - For Post-Procedure, Melasma, Sensitive Skin
This luxurious, skin enhancing make-up base combines superior broad spectrum UVA/UVB protection with all day oil control, gentle hydration and age defying antioxidant benefits. This product contains 16.2% Micronized Zinc Oxide and adds a touch of color, conceals imperfections and minimize the appearance of fine lines, wrinkles and pore size.
Advanced Anti-Photoaging Sunscreen SPF 50- Sensitive Skin
Enjoy a healthy and beautiful look with Replenix Antioxidant Sunscreen Moisturizer SPF 50+. This antioxidant cream offers sun protection with micronized Zinc Oxide and other sunscreen ingredients to provide the highest level of broad spectrum UVA and UVB protection. The slight tint to this cream also works as a makeup primer to mattify, moisturize and protect the skin under your favorite foundation.
TREATMENT CREAMS and SERUMS
Retinol Smoothing Serum 5x, 10x- For All Skin Types
Retinol, a derivative of vitamin A, works overnight (time-released) to exfoliate the skin leaving it more smooth, soft, firm and radiant. Key ingredients aid in collagen production to plump the skin and reduce the appearance of fine lines and wrinkles. Our retinol has a silky smooth texture and is fortified with antioxidants to assist in cell renewal, caffeine to reduce redness and hyaluronic acid to hydrate the skin.
Retinol Eye Cream- For All Skin Types
Formulated with vitamin K and arnica to combat dark circles, peptides to reduce puffiness, antioxidants to protect the delicate eye area and retinol to reduce the signs of aging, this eye cream delivers optimal results.
Skin Medica Ceramide Treatment Cream- For Post Treatment, Dry Skin
A rich ceramide treatment cream restores moisture for plumper more radiant skin. It delivers peptides and growth factors to aid in collagen production. Ideal for normal to dry skin types, and specifically for post-procedural and compromised skin, this moisturizer soothes and hydrates.
Neck Firming Cream- For All Skin Types
This Cream is designed to tighten, hydrate, and improve elasticity and texture, this has the latest technology in skin tightening and saq reduction that helps firm and rejuvenate the skin.
Vitamin C Pro-Collagen Brightening Serum-

For All Skin Types
This Vitamin C enriched system of high performance ingredients which helps brighten the complexion, support healthy collagen production, and help fight free radicals. Additionally these ingredients improve the appearance of aging and photo-damaged skin and improve skin resilience by offering a potent antioxidant treatment.
Zerafite Hydrating & Protecting Eye Serum- For Dry, Sensitive Skin
This eye serum locks in moisture and prevents dehydration while improving the appearance of fine lines, wrinkles, puffiness and dark circles along with a noticeable tightening effect. A key ingredient, Niacinamide strengthens the skin's barrier by increasing ceramide and fatty acid levels in the skin.
<>
Shea Terra 100% Argon Moroccan Argan Oil- For Dry Skin
100% Pure Moroccan Argan Oil is loaded with vitamins A & E and is rich in anti-aging squalene. Shea Terra MD's cold pressed, 100% Pure Moroccan Argan Oil has an amazing ability to repair skin and provides all day protection against moisture loss, ideal for dry skin.
Pure Hydration Hyaluronic Acid Serum For Dry Skin
Pure, ultra-hydrating serum quenches dehydrated skin for a supple, smooth complexion and all day moisture retention. Visibly reducing the signs of aging with a nourishing blend of antioxidants and humectants, skin appears brighter, firmer and rejuvenated.